How do you find time for fitness when so many things are competing for your attention? It's a common problem. The good news is that as little as 15 minutes a day can start a fitness habit – and deliver health benefits!
Research has shown that within a study conducted over a span of 12 years, almost half a million people found that as little as 15 minutes of moderate intensity exercise a day increased life expectancy. Every additional 15 minutes of exercise a day further improved the health outlook of the participants in the study.

Try these tips to fit 15 minutes of exercise into your day:
Pick a time of day that works for you and stick with that time for fitness.
Perhaps it is first thing in the morning, during a break at work or in the evening after dinner. Think of it as a part of your regular daily routine. Treat fitness like showering in the morning or brushing your teeth before bedtime.
Do something you enjoy!
People tend to make time for things they like. A brisk walk outside, a video exergame, a dance workout to your favourite music, a simple stretch and-strengthen routine you can do with one eye on your favourite TV program – they all qualify.
Not all exercise has to come from a gym.
Some great no-cost activities include cardio, strength exercises and flexibility stretches. It's important to vary these activities.
Why cardio, strength and flexibility activities?
Cardio activities are good for your heart, lungs and circulatory system. And moving your body feels great. To get started, walking is the simplest cardio activity you can do. Strength exercises, such as body squats, push ups and pelvic lifts, focus on your muscles. Muscles help support all the joints in your body and your movement. Flexibility stretches are all about keeping you limber for bending, reaching and turning with ease. Most people don't stretch their muscles enough and wonder why they feel stiff and sore.
Remember the benefits. 
We make time for things we know will reward us. The rewards of physical activity are numerous Regular exercise can reduce stress, improve our energy level, improve your strength and flexibility. Also, regular exercise can simply make you feel good about doing something for yourself.
Fifteen minutes a day can be the beginning of a habit that can grow and help you achieve your fitness goals. You'll feel good about fitting it in and that's an important factor in your overall health.
Keeping active will help improve your physical health, increase energy and put a smile on your face. And once 15-minute activities become a habit – and they will in almost no time – you may want to schedule even more move-your-body time into your day.
If you would like to learn more about how to safely add more physical activity into your routine or if pain is keeping you from being able to participate in physical activity give us a shout to see how Dr. Scott McLennan and the team at Port Perry Wellness Centre can help.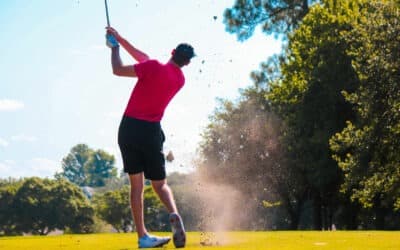 Get Ready to Tee it Up!! With the nice weather here it's time to hit the links. Each year at this time thousands of golf enthusiasts dust off their clubs and head to their favourite course to start another golf season. If this sounds like you, here's a few tips to...
read more